UV-VIS-NIR Cuvettes
UV/VIS – NIR - IR - KÜVETTEN
In der nachfolgenden Preisliste finden Sie nur eine Auswahl der gebräuchlichsten UV - VIS - NIR - IR – Küvetten. Nicht aufgeführte Küvetten sind auf Anfrage lieferbar, setzen Sie sich bitte hierzu mit einem unserer Vertriebsmitarbeiter in Verbindung.
Es stehen drei Materialien zur Verfügung:
GLAS: Geeignet von 334 nm bis 2300 nm
QUARZ-UV: Geeignet von 170 nm bis 2600 nm; keine Fluoreszenzlinie aber ausgeprägte Absorptionsbande bei 2700 nm

QUARZ-IR: Geeignet von 220 nm bis ca. 3800 nm; keine signifikante Absorptionsbande im UV, speziell für "Öl in Wasser"-Analyse mittels Infrarot-Spektroskopie
UV/VIS – NIR - IR - CUVETTES
In the following Price list you will find a selection of the commonest UV - VIS - NIR - IR - Cuvettes. Not listed Cuvettes are deliverable on request, please use our contact form.
You can choose between 3 materials:
GLASS: suitable from 334 nm to 2300 nm
QUARTZ-UV: suitable from 170 nm to 2600 nm
QUARTZ-IR: suitable from 220 nm to ca. 3800 nm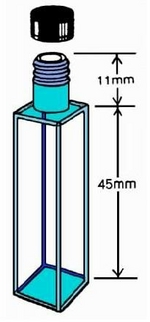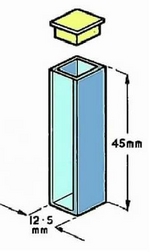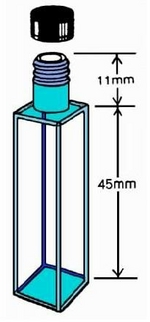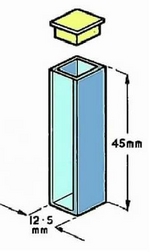 Typ

Schichttiefe (mm)

Breite

(mm)

Höhe

(mm)

Volumen (ml)

Artikel-Nr.

optisches Glas

Artikel-Nr.

Spectrosil

UV-VIS

Artikel-Nr.

Spectrosil

UV-VIS-NIR

RECHTECK-KÜVETTEN mit PTFE FALZDECKEL *** TYP - 1 ***

1

1

12,5

45

0,4

1-G-1

1-Q-1

1-I-1

1

2

12,5

45

0,7

1-G-2

1-Q-2

1-I-2

1

5

12,5

45

1,7

1-G-5

1-Q-5

1-I-5

1

10

12,5

45

3,5

1-G-10

1-Q-10

1-I-10

1

20

12,5

45

17

1-G-20

1-Q-20

1-I-20

1

30

12,5

45

10,5

1-G-30

1-Q-30

1-I-30

1

40

12,5

45

14

1-G-40

1-Q-40

1-I-40

1

50

12,5

45

17,5

1-G-50

1-Q-50

1-I-50

RECHTECK-KÜVETTEN mit großem PTFE - Stopfen *** TYP - 21 ***

21

1

12,5

45

0,4

21-G-1

21-Q-1

21-I-1

21

2

12,5

45

0,7

21-G-2

21-Q-2

21-I-2

21

5

12,5

45

1,7

21-G-5

21-Q-5

21-I-5

21

10

12,5

45

3,5

21-G-10

21-Q-10

21-I-10

21

20

12,5

45

7

21-G-20

21-Q-20

21-I-20

21

30

12,5

45

10,5

21-G-30

21-Q-30

21-I30

21

40

12,5

45

14

21-G-40

21-Q-40

21-I-40

21

50

12,5

45

17,5

21-G-50

21-Q-50

21-I-50

FLUORESZENZ RECHTECK-KÜVETTEN mit FALZDECKEL *** TYP - 3 ***

3

5

12,5

45

1,7

3-G-5

3-Q-5

3-I-5

3

10

12,5

45

3,5

3-G-10

3-Q-10

3-I-10

3

20

12,5

45

7

3-G-20

3-Q-20

3-I-20

3

40

12,5

45

10,5

3-G-40

3-Q-40

3-I-40

3

50

12,5

45

14

3-G-50

3-Q-50

3-I-50
Cell
Type


Path
length


(mm)

Width



(mm)

Height



(mm)

Capacity



(ml)

Code



optical Glass


Code



UV-VIS






Code




UV-VIS-NIR

RECTANGLE CUVETTES with PTFE CAP *** TYPE - 1 ***

1

1

12,5

45

0,4

1-G-1

1-Q-1

1-I-1

1

2

12,5

45

0,7

1-G-2

1-Q-2

1-I-2

1

5

12,5

45

1,7

1-G-5

1-Q-5

1-I-5

1

10

12,5

45

3,5

1-G-10

1-Q-10

1-I-10

1

20

12,5

45

17

1-G-20

1-Q-20

1-I-20

1

30

12,5

45

10,5

1-G-30

1-Q-30

1-I-30

1

40

12,5

45

14

1-G-40

1-Q-40

1-I-40

1

50

12,5

45

17,5

1-G-50

1-Q-50

1-I-50

RECTANGLE CUVETTES with large PTFE plug *** TYPE - 21 ***

21

1

12,5

45

0,4

21-G-1

21-Q-1

21-I-1

21

2

12,5

45

0,7

21-G-2

21-Q-2

21-I-2

21

5

12,5

45

1,7

21-G-5

21-Q-5

21-I-5

21

10

12,5

45

3,5

21-G-10

21-Q-10

21-I-10

21

20

12,5

45

7

21-G-20

21-Q-20

21-I-20

21

30

12,5

45

10,5

21-G-30

21-Q-30

21-I30

21

40

12,5

45

14

21-G-40

21-Q-40

21-I-40

21

50

12,5

45

17,5

21-G-50

21-Q-50

21-I-50

FLURESCENCE RECTANGLE CUVETTES with PTFE CAP *** TYPE - 3 ***

3

5

12,5

45

1,7

3-G-5

3-Q-5

3-I-5

3

10

12,5

45

3,5

3-G-10

3-Q-10

3-I-10

3

20

12,5

45

7

3-G-20

3-Q-20

3-I-20

3

40

12,5

45

10,5

3-G-40

3-Q-40

3-I-40

3

50

12,5

45

14

3-G-50

3-Q-50

3-I-50
FLUORESZENZ RECHTECK-KÜVETTEN mit PTFE-STOPFEN *** TYP - 23 ***

23

5

12,5

45

1,7

23-G-5

23-Q-5

23-I-5

23

10

12,5

45

3,5

23-G-10

23-Q-10

23-I-10

23

20

12,5

45

7

23-G-20

23-Q-20

23-I-20

23

40

12,5

45

10,5

23-G-40

23-Q-40

23-I-40

23

50

12,5

45

14

23-G-50

23-Q-50

23-I-50
FLURESCENCE RECTANGLE CUVETTES with PTFE plug *** TYPE - 23 ***

23

5

12,5

45

1,7

23-G-5

23-Q-5

23-I-5

23

10

12,5

45

3,5

23-G-10

23-Q-10

23-I-10

23

20

12,5

45

7

23-G-20

23-Q-20

23-I-20

23

40

12,5

45

10,5

23-G-40

23-Q-40

23-I-40

23

50

12,5

45

14

23-G-50

23-Q-50

23-I-50
Des weiteren erhalten Sie auf Anfrage unter anderem:


Rechteck-Küvetten mit Schraubverschlusskappe – Typ 1SC
Rechteck-Küvetten mit Graduierung – Typ 1GS
Fluoreszenz-Küvetten mit Graduierung – Typ 3GS
Mikro- und Makro Durchflussküvetten aus optischem Spezialglas
Übergangsgläser und Spezialformen und Größen
Available on request:


Rectangle-cuvettes with screw cap – Type 1SC
Rectangle-cuvettes with graduation – Type 1GS
Fluorescence-cuvettes with graduation – Type 3GS
Micro- and macro flow-throgh cuvettes made of optical special glass
junction glasses and special cuvette forms and sizes