MP250M - The Motor Power Hydraulic Press
MP250M - motorized hydraulic pellet press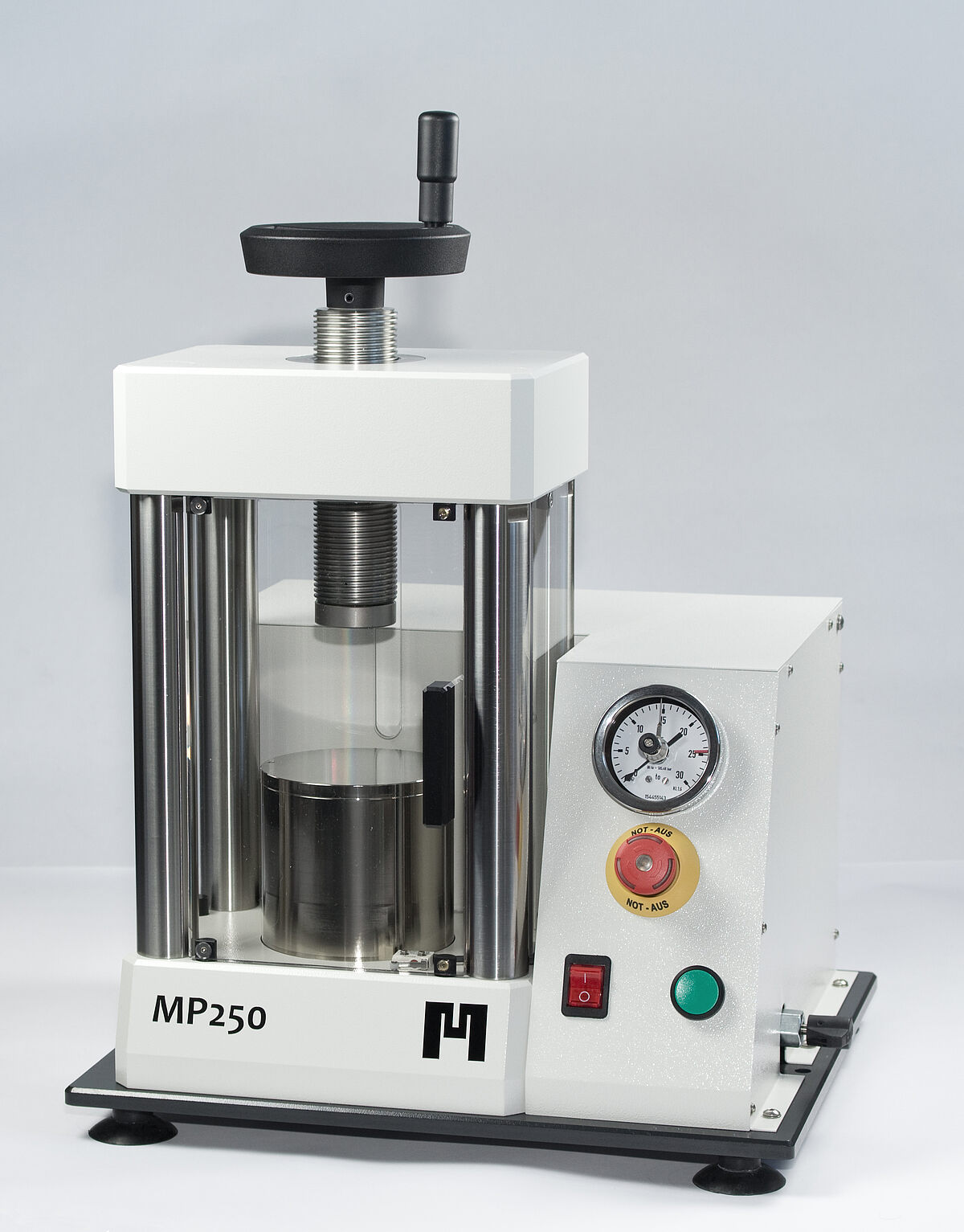 Easiest handling for frequent use
The MP250M motor power press is made to handle a large number of press actions.
You control the load by positioning a red mark inside the 63 mm pressure gauge. Although it is possible to set 2 tons as minimum load, we recommend to use die sets not smaller than 8 mm because the 63 mm pressure gauge scale is 1 ton. So the load is reproducible as long as the mark is at the same position, but it is not exact enough for very small dies. The MP250M is able to hold the load for several hours.
We integrated two additional safety features compared to the manual versions: a safety switch to prevent press actions with opened cover and an illuminated emergency stop button.
The handling is very easy: pushing the green button starts the action and it stops at the marked position. The manual release valve allows a smooth pressure decrease to avoid cracks in your pellets.
| | |
| --- | --- |
| Order number | 54MP250M |
| Size(H x W x D) | 620x290x420 mm |
| Width between pillars | 150 mm |
| Min. / Max. clear height | 73 mm / 185 mm |
| Display / resolution | Analog, 0,5 T |
| Spindle diameter | 40 mm |
| Max. way of spindle | 90 mm |
| Piston diameter / max. lifting | 105 mm / 22 mm |
| Net. weight | 68 kg |
| Mains Connection | 230 V / 50-60 Hz / 250 W |
| Manufacturer | Maassen GmbH |