Quartz glass acid cleaning system
Acid Cleaning System made of Quartz Glass
To reach the best detection limits for trace analysis, you need to have the best quality of acids and distilled water to avoid contamination and introducing traces of other elements which leads to wrong results. But the ultra clean quality of acids is very expensive and that's why you should think about having your own cleaning station, Maassen's ECO Q Subboiling unit:
Availability of clean acid in the quantity you need, every day. Minimized risk of contamination if different people are using the same acid.

Save money! Cleaning your own acid returns the investment of such an acid cleaning system within a few months.

Improve the quality of existing acids or clean your contaminated ones. No unnecessary disposal any more!
How it works
The liquid inside the quartz container gets evaporated below the boiling point. The heating source is above the liquids surface, so only the pure acid steam condensates at the cooling finger inside.
The ECO Q double uses two IR heating sources which is especially made for H2SO4 and other acids which need a higher temperature to evaporate.
There are no metal parts inside the acid cleaning system, so there is no contamination possible.
Setup
IR radiators heat up the liquid inside the quartz container. The maximum capacity is 1000 ml, filled through the port on top. Adjust the power with a rotary knob to avoid boiling, slow steam production improves the cleaning quality.
Connect a water chiller at the cooling finger, so clean acid can drop into the PFA bottle in front of the system. One PTFE filter is installed for aereation to avoid over pressure. The narrow socket with integrated catching bowl does not need much space in a fume hood. The seperate electronic box contains the power switch, power regulator and a timer. It can be taken out of the socket for easier handling.
Säurereinigungssystem aus Quarz ECO single und ECO dual
Die Elementanalytik erzielt immer bessere Nachweisgrenzen. Damit werden aber auch deutlich bessere Grundchemikalien wie Säuren und Wasser benötigt, damit z. B. bei der Probenpräparation und in den Verdünnungsschritten der entsprechenden Standards keine Elementeinschleppung erfolgt. Je reiner die Säuren und das Wasser sind, umso teurer werden diese auch in der Anschaffung; und hier rechtfertigt sich der Einsatz einer MAASSEN Subboiling-Apparatur in mehrfacher Hinsicht:


Die schnelle und frische Herstellung hochreiner Säuren für den täglichen Bedarf. Damit eine geringe Gefahr durch Verunreinigungen bei mehreren Verwendern der Säuren.
Kostenersparnis, die eigene Herstellung macht sich je nach Bedarf nach wenigen Monaten bezahlt.
Bei Mehrfachläufen lässt sich die Qualität noch weiter gegenüber gekaufter Ware verbessern. Verschmutzte Säuren lassen sich recyceln oder qualitativ erneuern.
Das Prinzip des Subboilers:
Die eingefüllte Flüssigkeit verdampft unterhalb des Siedepunktes. Hierzu wird mit einem Quarz-IR-Strahler (Eco single) die Oberfläche der zu reinigenden Lösung sehr vorsichtig erhitzt, ohne dass es zum Sieden der Lösung kommt. Die Variante mit zwei IR Strahlern (Eco dual) ist besonders für Schwefelsäure geeignet, da diese zum verdampfen mehr Energie benötigt. Die so erzeugten Dämpfe, die aus der sich in Ruhe befindlichen Lösung austreten, werden an einem Quarzkühlfinger kondensiert und in eine PFA-Auffangflasche überführt. Die so gewonnenen Säuren verfügen über eine sehr hohe Reinheit. Die Flüssigkeiten kommen nicht mit Metall in Berührung, so kann auch keine Kontamination diesbezüglich erfolgen.
Aufbau:
Die IR-Strahler sind mittels einer Schliffverbindung in den Quarzcontainer gesteckt. Über einen Trichter wird die zu reinigende Säure eingefüllt und durch langsame Erhitzung der Oberfläche verdampft.
Die Leistung der Strahler wird so optimiert, dass kein Sieden eintritt. Die vorgelegte Lösung soll in absoluter Ruhe verbleiben. Die Qualität der Reinigung wird erhöht je langsamer der Vorgang abläuft. An dem Quarzkühlfinger kondensiert der entstehende Säuredampf und wird in eine darunter stehende 1 L PFA Flasche geleitet. Sobald diese voll ist, wird das System automatisch ausgeschaltet. Zwei PTFE Filter sind für Belüftung und Druckausgleich vorgesehen. Der Sockel ist in seiner kompakten Bauweise so konzipiert, dass ein zweites System platzsparend daneben aufgebaut werden kann. Sowohl Leistungssteller als auch Timer sind im Gehäuse integriert.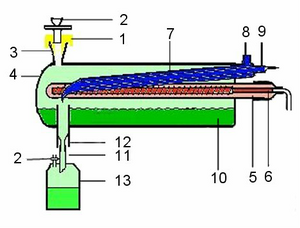 Legende:
PTFE-Abdeckung mit
PTFE-Belüftungsfritte
Einfüllstutzen-NS-29
Subboilingcontainer
Quarzschutzrohr NS-29
IR-Strahler
Kühlfinger
Kühlung-Ablauf
Kühlung-Zulauf
Säure- / Wasservorlage
Abnahmestelle
Staubschutz (Schliff-NS-29)
PFA-Auffangflasche (1.000mL)
Die Tabelle gibt die mit einer ECO single erzielbaren Volumen in Abhängigkeit von der eingestrahlten Leistung an. Diese variiert auch durch die angelegte Kühlung. Die gewonnenen Reinheitsgrade sind steuerbar durch die Zeitdauer (je langsamer desto besser) und durch Mehrfachsubboiling. Die Daten dienen daher nur als Anhaltswerte.
Destillationsmenge: g / min

Reinheit: ng / ml

W (Watt)

200

400

600

800

Element

Al

Cd

Cu

Pb

Zn

H2O

1,1

2,8

4,4

5,8

Reinheit

< .05

.01

.04

.02

--

HNO3

1,2

3,3

5,3

7,5




< .05

.001

.25

.05

.04

HCl

0,8

2,8

4,9

7,1




.07

.01

.07

.05

.04

H2SO4

--

--

0,3

0,8




Und besser!
Features
improving standard quality acids to ultra clean

returns the investment in only a few months

cleaning of all acids possible, like HCl, HNO3, H2SO4 and H20 (except: HF which damages quartz)

No metal parts inside – no contamination and corrosion

easy to fill and clean

Narrow rack with separate electronic box for easy operation
Cleaning results
This index shows the achieved cleaning grades, depending on the duration of the cleaning process. You can improve the quality by cleaning the acid again, therefore these data is just a reference value.
Destillation volume: g / min

purity: ng / ml

W (Watt)

200

400

600

800

Element

Al

Cd

Cu

Pb

Zn

H2O

1,1

2,8

4,4

5,8

purity

< .05

.01

.04

.02

--

HNO3

1,2

3,3

5,3

7,5




< .05

.001

.25

.05

.04

HCl

0,8

2,8

4,9

7,1




.07

.01

.07

.05

.04

H2SO4

--

--

0,3

0,8




and better!
Merkmale:

Wandlung von preiswerten Standardqualitäten in ultrareine Säuren
Eine Einsparung die sich schon in wenigen Monaten amortisiert
Aufbereitung aller Säuren (Ausnahme: Fluss-Säure HF) wie HCl, HNO3, H2SO4 und auch H20.
H2O und Säuren sind ausschließlich mit Quarz oder PFA in Kontakt
Einfache Handhabung zum Reinigen und Befüllen
Standgestell, Leistungssteller und 1000ml PFA-Flasche im Lieferumfang
Quarz ECO single - Quarzcontainer (Füllmenge max. 1000 ml)
mit einem IR-Heizstab, elektr. Steller und 1 L PFA-Flasche,
Maße LxTxH ca. 50 x 20 x 42 cm
220V/50Hz/500W


Quarz ECO dual - Quarzcontainer (Füllmenge max. 1000 ml)
mit zwei IR-Heizstäben, elektr. Steller und 1 L PFA-Flasche,
Maße LxTxH ca. 50 x 20 x 42 cm
220V/50Hz/ 1000W
Lieferumfang: Quarzcontainer, IR-Strahler mit PTFE Adaptern, Grundgestell mit integriertem Regler und Timer, PFA-Auffangflasche (1.000mL), Trichter, Verschlussdeckel mit PTFE-Filter, Netzkabel und deutsche Anleitung. Die Anlage wird komplett geliefert und ist zur Inbetriebnahme durch den Anwender vorgesehen.
Variante Doppelsystem: Für eine zweite Säure oder größere Mengen Säure ist der Sockel auch kompakt mit einem zweiten Sockel zusammenstellbar (wie auf dem Bild zu sehen). Dabei spielt es keine Rolle, ob dies ein Eco Single oder Eco Dual Quarzcontainer sein soll oder ob die beiden Arten kombiniert werden.

Order information and technical data
ECO Q single




Quartzcontainer, capacity: 1000 ml,

One 500W heater with PTFE Connetors,

Rack with separate electronic box,

1 x 1 L PFA bottle, Power cable, manual

LxBxH ca. 50 x 20 x 42 cm
220V/50Hz/500 W
P/N: 5038010

ECO Q Dual




Content as mentioned above,

Difference: two heater version with

2x 500W heaters

LxBxH ca. 50 x 40 x 42 cm
220V/50Hz/ 1000W

P/N: 5038030

The Subboiling unit is sent in a carton and meant to be installed by the user. Installation is very easy: The rack comes in two parts, the quartz container needs to be put on top. IR heaters are preassembled. Plug in power and connect to a water chiller and start cleaning your liquids!