Steam Cleaning Systeam ADA-1
Reinigen von Gefäßen mit Säure- oder Wasserdampf
Ideal für Spurenanalytik!
Clean your vessels with acid or purified water
Made for trace analysis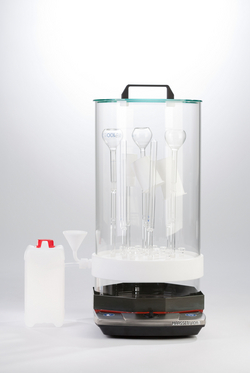 Die Spurenanalytik benötigt, um ihre Nachweisgrenzen einhalten zu können, neben genauer Analyse auch saubere Gefäße, damit es zu keiner Kontamination der Proben kommt. Hier hilft die Maassen ADA-1, um verschiedenste Gefäße nach der Verwendung wieder sorgfältig zu reinigen – egal ob aus Glas oder Kunststoff.
Die Maassen Ausdämpfapparatur ADA-1 reinigt Gefäße wie Kolben, Becher, Spritzen und andere von innen durch heißen Säure- oder Wasserdampf. Dieser Vorgang ist wesentlich effektiver als das bloße Auskochen, was im wesentlichen auf zwei Effekten beruht:
Dampf spült effektiv ab

Die Gefäßoberfläche wird mit den Ionen der Reinigungslösung gesättigt


Dadurch ergibt sich eine Verringerung von Verlusten durch Adsorption an der Gefäßwand aus Analysenlösungen und die darin gereinigten Gefäße sind für die Spurenanalytik geeignet.
Die ADA-1 ist zur Reinigung und Vorbehandlung von Gefäßen aus Quarzglas, Teflon (PTFE / PFA), Glaskohlenstoff, Keramik oder Borosilikatglas gedacht.
Die Gefäßmaterialien kommen dabei nur mit Glas und der frisch destillierten Reinigungsflüssigkeit (hochreines Wasser oder beispielsweise HCl) in Kontakt. Die Säure wird nicht wiederverwendet, daher keine Kontamination durch verunreinigte Säure möglich (Säure kann anschließend z. B. mit unserer Säurereinigungsanlage gereinigt und wieder verwendet werden)

Auch schwer zugängliche Hohlräume werden kontinuierlich erreicht

Durch die beschriebene Behandlung werden in der Spurenanalytik Blindwerte und systematische Fehler vermindert

Der komplette Reinigungsvorgang kann überwacht werden
To get the best possible results for trace analysis, you have to use very clean vessels to avoid contamination of your samples which may otherwise lead to wrong results.
The ADA-1 exposes contaminated vessels to hot steam from distilled water or dilluted nitric acid. This way of cleaning is much better than just to wash the vessels, because:

1. rinsing with hot steam is highly effective
2. the walls get saturated with the ions of the cleaning solvent
This reduces adsorption effects from analytical solvents at the wall from the cleaned vessels and makes it clean enough for trace analysis.
The ADA-1 is made to clean all kind of vessels made of glass, quartz, PTFE/PFA or ceramics.
Benefits and features
leaches metallic ions from the surface of vessels using water or acid vapour - eliminates measurement errors caused by vessel contamination.

vessels are continually flushed with fresh acid – contaminated acid will not be reused so you always have the best result. Contaminated acid flows into the container and can be cleaned again by using one of our acid cleaning systems.

whole cleaning process can be monitored including the acid level

top access to cleaning chamber - easy to handle.

no cooling required - saves water consumption.

large capacity - simultaneous cleaning of up to 3 x 1 litre flasks.

Even small vessels (min. 8 mm ID) can be cleaned continually

High Capacity Version can handle up to 49 small vessels at once

Glass parts are made of Duran glass
Aufbau
Eine modifizierte Heizplatte mit Ceranfeld heizt die darauf liegende Glasschale, in die etwa 4-5 L Säure oder hochreines Wasser gefüllt werden kann, auf. Die verdampfende Lösung wird über Glasrohre direkt in die zu reinigenden Gefäße geleitet. Das Kondensat wird über die Systemplatte aus PTFE in ein Auffanggefäß geleitet und kann nach Reinigung durch Destillation oder Subboiling wieder verwendet werden. Die Schale fasst ausreichend Säure für mehrere Reinigungsgänge. Die Dauer des Reinigungsvorganges hängt von dem Grad der Verschmutzung der Gefäße ab, in der Regel sind das etwa 1 – 3 Stunden. Die ADA-1 muss während des Betriebs nicht gekühlt werden, es reicht die normale Umgebungstemperatur für eine ausreichende Kondensation. Ein separater Timer kann die Stromzufuhr nach dem Reinigungsvorgang unterbrechen. Dabei ist nur darauf zu achten, dass die Glasschale nicht trocken läuft.
Kapazität:
Es werden 2x 15 Dampfrohre mitgeliefert: 6 mm Öffnung für kleine Röhrchen oder Probengefäße und 8 mm Öffnung für größere Kolben oder Becher. Optional sind noch Dampfrohre mit 10 mm Öffnung erhältlich. Die ADA-1 kann durch einfaches Umstecken der Dampfrohre variabel bestückt werden, wobei wegen des gleichmäßigen Dampfdrucks empfohlen wird, nur gleichartige Rohre pro Reinigungsvorgang zu verwenden. Es können maximal 25 kleinere Gefäße oder aber drei 1 L-Kolben gleichzeitig gereinigt werden. Je nach Position haben die Dampfrohre etwa 20 – 25 mm Abstand zueinander. Nicht benötigte Dampföffnungen werden einfach mit beiliegenden Glasstopfen verschlossen. Bei Bedarf kann die PTFE Platte auch für bis zu 49 Reinigungsplätze erweitert werden, wenn Sie beispielsweise viele kleine Gefäße auf einmal reinigen müssen.
Aufstellung:
Bei zu starker Dampfentwicklung kann es vorkommen, dass der entstehende Dampfdruck zu groß wird und Dampf entweicht. Daher empfehlen wir aus Sicherheitsgründen den Betrieb der Ausdämpfapparatur unter einer Abzugshaube, insbesondere wenn diese mit Säuren betrieben wird.
Gefäße aus Glas sind nach der Reinigungs- und Abkühlphase in der Regel trocken, wenn sie von oben entnommen werden. Die Ausnahme dabei sind nur Kunststoffgefäße, die die Wärme nicht lange genug halten können. Dann müssen die Gefäße noch nach der Entnahme weiter an der Luft trocknen.
Design
A modified ceran heating unit heats up the glass bowl which can contain enough liquid for several cleaning processes (about 5 L). The system board where up to 49 steam tubes can be plugged in is completely made of PTFE. The steam comes through these tubes to clean the vessels on top. Unused holes need to be closed with the included glass plugs. The steam production can be adjusted by turning the power up or down.
The duration of one cleaning process is depending on the contamination level of your vessels, it us usually done within 1 – 3 hours. The ADA-1 does not need to be cooled. An external timer can shut off the heating element. You only have to make sure that the glass bowl does not run dry and you don't fill in cool liquids into a hot glass bowl.
Capacity
There are two different sizes available to suit different sizes of vessels, one with 6 mm and one with 8 mm outlet diameter (10 mm on special request). They can be placed individually for best use of the space. The Standard ADA-1 has 25 cleaning places and comes with 2 x 15 steam tubes. The high capacity version has 49 cleaning places and comes with 2 x 25 steam tubes. We recommend only to use the same size of steam tubes in each cleaning process.
Setup
It is possible that hot acid steam can escape, so we recommend to place the whole unit under a fume cupboard and replace the vessels inside only when the system is cooled down.
Vessels made of glass are usually dry after the cleaning process, but other vessels made of synthetic material cool down quite fast, so they may still be wet. Then you have to let them dry in the air.
Steam Tubes
You can use different steam tubes for different vessels. No. 1 shows the 6 mm small tubes, suitable for small sample cups. No. 2 shows medium size steam tubes with 8 mm outlet, for universal use.
If you have small bowls or if you don't want the tip of the steam tube touching the wall of the vessel, you can now use a new kind of steam tube. It uses a PTFE bar to hold the vessels. Simply pull it over the steam tube, turn it for 90° and fix it with a screw. With this method, you can clean bowls with up to 90 mm diameter.
Dampfrohre Sondermaß:
Für kleine Schalen oder andere, größere Gefäße, bei denen die Spitze des Rohres nicht den Boden des zu reinigenden Gefäßen berühren darf, haben wir ein spezielles Rohr mit einer Halterung aus PTFE entwickelt. Es wird über die Glasnasen geschoben, um 90° gedreht und mit der Schraube gegen Wackeln und Verdrehen gesichert. Damit können Gefäße bis zu 90 mm Durchmesser sicher gereinigt werden. Bitte beachten Sie dabei, dass dann nicht mehr alle Reinigungsplätze auf einmal genutzt werden können.
Dampfrohre können je nach Bedarf auch kürzer oder länger angefertigt werden, um den Raum optimal zu nutzen.
Abmessungen ADA-1
Gesamthöhe: 72 cm
Gesamtbreite: 32 cm
Gesamttiefe: 42 cm
max. Höhe Dampfraum: 44 cm
Innendurchmesser Dampfraum: 29 cm
Dimensions
total height: 72cm
total width: 32 cm
total depth: 42 cm
max. height f. flasks: 44 cm
inner dia: 29 cm